Honda never makes mistakes. Well, almost never. In our world of scooter seats, there are few examples that irk customers more than the stock seat for the 2010-2013 Honda PCX.
With the PCX, Honda decided to mount a small backrest about 2/3 of the way back on the seat. The problem is for anyone over 5 foot 8 inches, or someone with long legs, the area where the backrest is represents the exact spot where riders want to sit. The backrest has come to be called "The Hump."
We were approached by PCX riders wanting a seat cover to hide the holes in the seat when the Hump is detached. We make several covers like that, and suggest riders simply fill the holes with a rag, bit of foam, and then tape over them, then put our seat cover on. Easy Peasy.
Honda finally wised up in 2014 and changed the design of the PCX seat to be smooth, sans hump.
If you have a 2010 – 2013 Honda PCX and are suffering with the hump, contact us and we can help!
The padded cover above can be viewed here: Padded Honda PCX Seat Cover
UPDATE (June, 2016):
Recently, we had the pleasure of working with Paul Smith, who had this exact problem with his Honda PCX and was looking for a solution. After chatting with him on what he would like, we got to work and shipped it out to him. We were surprised and humbled when he wrote a review of his experience with Cheeky Seats, as well as his thoughts on the Honda PCX seat cover we crafted for him!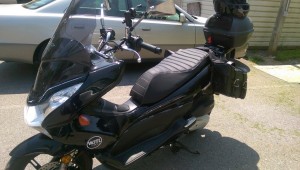 "The first thing I was impressed with was the fabrication quality. Having lived so many years using products made in sweatshops around the developing world that are manufactured to such poor standards and quality, seeing an American made product that has been obviously constructed with quality and craftsmanship is beyond refreshing. The stitching is flawless, the material is obviously good quality, and it fits the dimensions of my seat perfectly. This is what a good product looks like."
Check out his review, in its entirety, HERE! Thanks again, Paul!